Day 11 | September 11th
Stop in the library to check out two relevant books by one of Columbia's own, Stephen Asma, who is the author of two very relevant books to our subject.
STUFFED ANIMALS AND PICKLED HEADS
@Columbia College Library
@ Amazon
Stephen T. Asma is Professor of Philosophy at Columbia College Chicago, where he holds the title of Distinguished Scholar.
Asma is the author of seven books, including "Against Fairness" (Univ. of Chicago Press, 2012), "On Monsters: an Unnatural History of Our Worst Fears" (Oxford Univ. Press), "Stuffed Animals and Pickled Heads" (Oxford Univ. Press), "The Gods Drink Whiskey" (HarperOne), and the best selling "Buddha for Beginners" (originally published in 1996 and reissued in 2008). His writing has been translated into German, Spanish, Hebrew, Czech, Romanian, Hindi, Portuguese, and Chinese.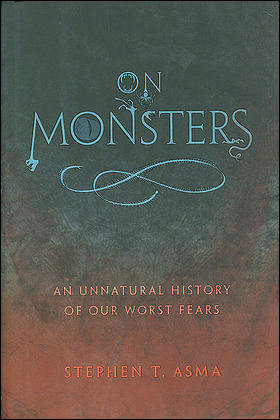 ON MONSTERS
@ Columbia College Library
@ Amazon
Asma has written for the New York Times, the Sunday Times, the Daily Beast, the Chronicle of Higher Education, the Chicago Tribune, the Huffington Post, Psychology Today, the Fortnightly Review, and Skeptic magazine.
Dr. Asma is a founding Fellow of the "Research Group in Mind, Science and Culture" at Columbia College Chicago. The Research Group is actively working on a philosophical and scientific understanding of the mind/brain that properly incorporates the emotional dimensions of mammalian consciousness.