This week, we're highlighting some of the participants in our Little Indie Press Festival coming up Friday during the Wabash Arts Crawl. Stay tuned for more!
1. Andrea Bell
http://andreabelldraws.com/
Andrea Bell is an illustrator and comic artist living in Chicago throughout the best and worse seasons. She studied Art & Design as well as illustration at Columbia College Chicago.
She has completed works with Yeti Press (Rose from the Dead 2014), Nestle SweeTARTS, SNAP! Learning, Columbia College's Chronicle, iO Chicago, Hollywood Improv, The Nerdologues, Culture Collide, Feeligo, and her original series, Fair Voyage. Andrea has exhibited such works at conventions like CAKE (2014-2016), TCAF(2014 + 2016) CALA (2014-2015), Linework NW (2015-2016), and Chicago Zine Fest (2015-2016), Token (2016), C2E2 (2016).
2. Pulp, Ink, Thread
https://www.facebook.com/pulpinkthread/
Pulp, Ink & Thread (P.I.T.) is a graduate school association of binders, printmakers and hand papermaking artists at Columbia College Chicago.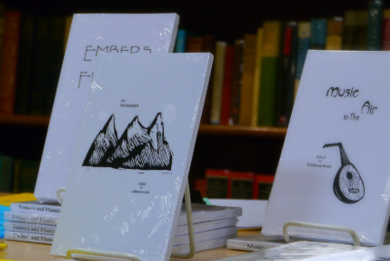 3. Outrider Press / Tallgrass Writers Guild
https://www.outriderpress.net/publications.html
Outrider Press, a for-profit endeavor, has been publishing poetry, fiction and nonfiction for 30 years and providing customized support for clients. Publications include the acclaimed Black-and-White annual anthologies produced in affiliation with TallGrass Writers Guild, an independent arts organization.